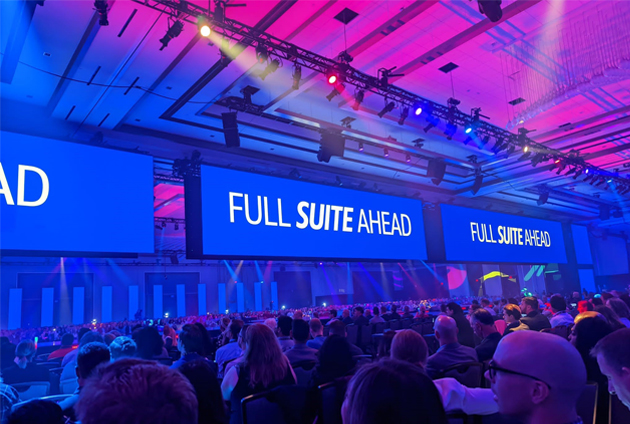 3RP @ SuiteWorld 2022
Earlier this month, Elliott Keene and I (Adam Johnson) ventured to Las Vegas for the annual SuiteWorld convention.
I was impressed with how slick and organized it was, much like your financial closing when using NetSuite, with partners attending from all over North America, Europe, Asia and Australasia making the journey.
A creative jumble of future forecasting, networking opportunities and some fun stuff thrown in-between, the stand-out takeaways were:
1. Partner networking opportunities
It was exciting to feel the passion which customers and partners have for the products and projects they work on, whilst learning about new problem-solving solutions in the NetSuite ecosystem to benefit our clients.
2. Future trends
Sneak previews and glimpses of the future road map reiterate NetSuite's vision to continually improve and address customers' needs. With its finger firmly on the progress pulse, these insights reinforced NetSuite ERP as the best-in-class.
3. Connecting and collaborating
System improvements and new functionality are often down to collaborations with the right industry pioneers. SuiteWorld afforded us the opportunity to put faces to names as well as meeting customers and fellow alliance or channel partners, opening the door for potentially working together on future projects to service the NetSuite ecosystem together. Despite meeting many competitor consultancies, there was a real sense of community, with a shared vision.
4. Keynote speeches
Keynote speeches from some on NetSuite's biggest hitters gave invaluable insight into future developments and industry trends – highlights included:
EVP and founder Evan Goldberg unveiled new announcements focused on helping organisations improve efficiency, productivity, and profits.

Senior members of NetSuite's product team, including (Gary Wiessinger, Senior Vice President, Craig Sullivan, Group Vice President, Allison Auclair, VP, Elham Ghassemzadeh, VP, and Hanif Ismail, V) unveiled new and future product innovations around financials, supply planning, analytics, commerce and more.

Whilst Diversity & Inclusion were addressed by Ranga Bodla, VP, Devin Cobb, Diversity & Inclusion Leader, supported by China Widener from Deloitte.
5. The closing party
It would be unfair not to mention the 2000's throw-back event of the year headlined by Nelly!
With dates already announced for next year, rest-assured I've already circled the days in my calendar for my next Vegas visit!
Watch highlights of SuiteWorld 2022 on YouTube.
---
Share this article
via social media or email

:
More from 3RP
Latest news